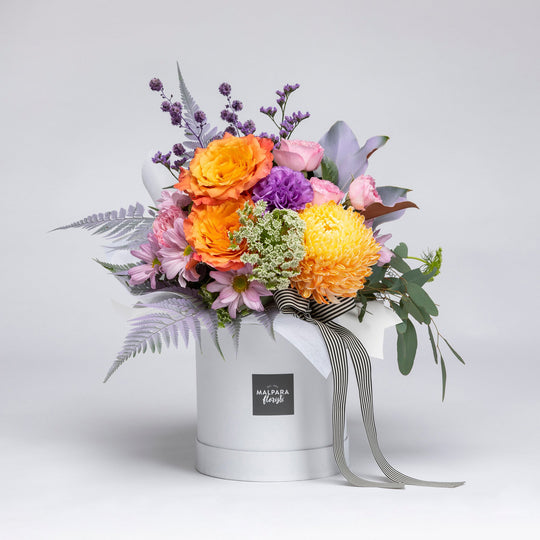 Hat Box Arrangement - Florist Choice
Regular price $140.00 Sale
An elegant arrangement using the seasons best flowers and foliage, presented in a hat box.
You choose the colour scheme and size value, and let us do the rest! 
*Picture shows a hat box arrangement valued at $85.
Images are purposed as a style reference only, and will vary depending on seasonal availability. Images show examples of our work, however our passionate florists will choose the best blooms for you.
If you have a special request order, please phone 4771 6767.
PLEASE NOTE: Due to COVID-19 affecting the flower supply chain all over the world, we are unable to secure particular flowers, varieties and colours. We have now changed our website to reflect more generalised order options. We will be back with our gorgeous creations and wide variety of products when things get back to normal! We thank you for your understanding and continued support during these trying times.
Original & Opulent
Most of our arrangements are available in two sizes; original and opulent. The images featured on the website represent the original value size of the arrangement. When you choose the opulent value size your arrangement will be increased in size/flower value.

Flowers & Design
At times some flower varieties pictured may be unavailable due to seasonal change or accessibility. Substitutions will be made in the spirit of the flowers originally chosen.